Hesitation cement squeeze job using CST as base
Complete losses occurred when a major operator in the North Sea was drilling a 16" section below a 17" liner, using 1.63 SG mud and circulating @ 4 500 lpm. It was believed the loss zone was close to the 17" liner shoe.
An attempt to shut off the loss zone was made by spotting a LCM pill and reducing mud weight to 1.50 SG. After failing FIT it was decided to squeeze cement. The first attempt was to set a balanced plug from the 17" liner shoe using 1.80 SG mud as pad. The plug was a complete failure and no competent cement was found at the shoe or in the open hole, which indicates the losses were deeper down in the open hole section. It also indicates the whole plug was contaminated during the squeeze operation.



x

x

x




x

x

x




x





x

x

x




x



After the failed plug it was decided to deploy a 2 ½" Cement Support Tool (CST) 10 m below the 17" liner shoe @ 2 236 m.


x




x




x




x




x




x




x





x




x




x




x

A 27 m3 balanced cement plug with 1.90 SG cement was then set above the CST and a 5 step hesitation squeeze job was performed. The hesitation steps were 10m3 → 5 m3 → 2 m3 → 1 m3 → 1 m3. The operator waited on cement to harden for 30 hours.


x




x




x




x




x




x





x




x

After waiting cement was tagged @ 2 194 m. Using PDC bit soft cement was drilled to 2 229 m before competent cement (3 – 10 ton weight on bit) was drilled to 2 311 m. As the CST was set @ 2 236 it indicates the loss zone was lower than expected. It also indicates the CST had moved 75 m down while still supporting the cement and then directed the cement into the loss zone. After drilling out the cement plug a FIT was successfully performed before the section was successfully drilled to section TD @ 2 830 m with no further losses.



x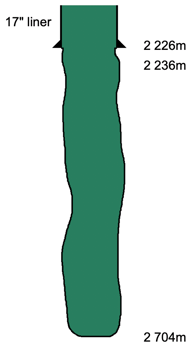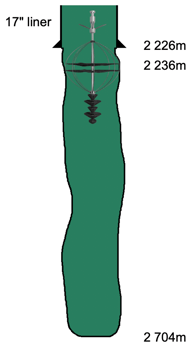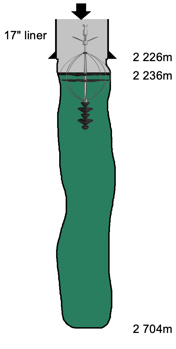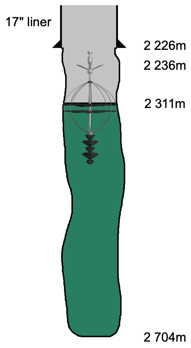 Do you have questions about this case study?
Please contact us: